Nearly 10% of men living in the US have experienced issues with fertility when trying to conceive with their partners.
Oftentimes, subfertility concerns such as low sperm count or abnormal sperm morphology may be related to damaged inflicted from oxidative stress.
As such, one of the best forms of natural treatment for optimizing male fertility is the use of fertility vitamins that contain high concentrations of antioxidants that defend sperm cells against free radicals.
Here we'll provide an in-depth look at the 4 best multivitamins for male fertility in 2021 and discuss how each nutrient plays a major role in respect to promoting sperm health parameters and increasing a couple's chances of conceiving.
TL;DR: What are the Best Vitamins for Male Fertility?
The best vitamins for male fertility are those that are naturally found within the seminal fluid's defense system. These nutrients include vitamins A, E, C, B vitamins, glutathione, coenzyme Q10, carnitine, zinc, selenium, and copper.
Male prenatal multivitamins may also contain herbs and supplements such as l-arginine, shilajit, or maca to further promote cellular energy and increase blood flow.
Beli Vitality is the best overall multivitamin for male fertility. It provides men with 8 vitamins and minerals along with a vitality supplement blend that is composed of amino acids and herbs.
Persona Nutrition offers the best custom multivitamin for male fertility. Men can design their own vitamin packs and can select add-in options that are perfectly tailored to their specific health goals.
Ready, Set, Go! Fertility Formula for Men by Best Nest Wellness is the best one-a-day vitamin for men. This product is a 3-in-1 formula composed of methylated vitamins, herbs, and antioxidants.
FH PRO for Men by Fairhaven Health is the most comprehensive male fertility multivitamin and is also the best immune-boosting supplement. It contains generous portions of antioxidant nutrients including NAC, grape seed extract, and lycopene.
Comparison of the 4 Best Vitamins for Male Fertility
Best Multivitamin for Male Fertility – Beli Vitality
Beli Fertility realizes that it takes 2 to tango when it comes to optimizing fertility!
As such, the company produced a male-specific prenatal multivitamin that's designed to improve the full spectrum of sperm health parameters.
Beli Vitality is the leading multivitamin for male fertility that provides men with 14 essential nutrients in their optimal form.
Beli Vitality Ingredients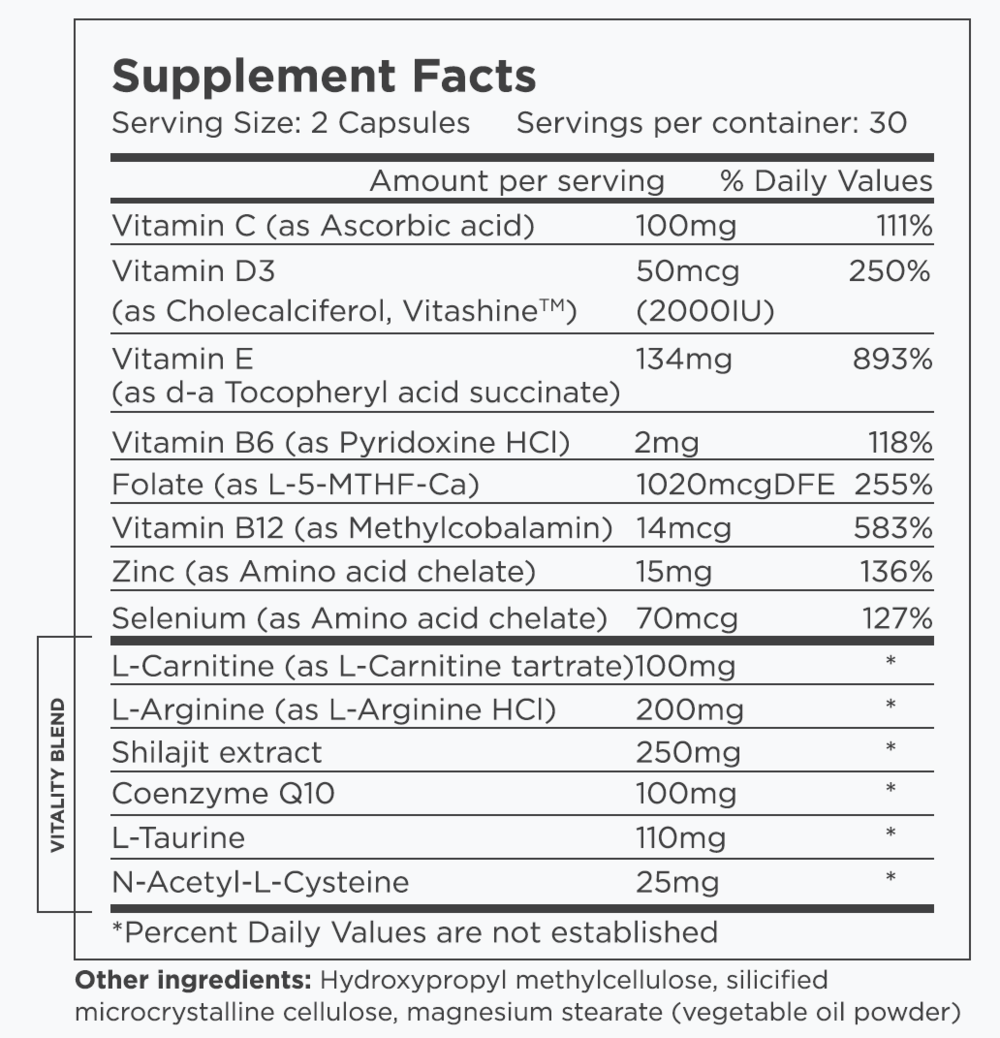 Beli Vitality possesses a wide range of critical vitamins and minerals for sperm vitality and function.
Its formulation consists of major antioxidants, such as vitamin C, vitamin E, zinc, and selenium which improve seminal fluid quality and provide protection against oxidative stress.
Additionally, Beli Vitality also provides men with a generous portion of vitamin D3 which is required by the protein hormone osteocalcin for carrying out sperm production.
This product also contains a vitality supplement blend which is composed of several leading supplements and herbs for boosting cellular energy, increasing blood flow, and detoxifying the body of environmental toxins.
It is recommended for men to take 2 capsules daily starting at least six months prior to trying to conceive.
Pros vs Cons of Beli Vitality
Pros
Contains major antioxidants and detoxifying nutrients
Vitality Blend made with leading herbs and supplements for sperm health
100% vegan friendly
Cons
Does not contain magnesium
Missing other well-studied herbs such as maca and ashwagandha
Some ingredients should be in higher dosages to maximize benefits
Best Custom Multivitamin for Men – Persona Nutrition
Persona Nutrition offers daily vitamin packs that are 100% personalized and designed to meet the specific health needs of each and every customer.
The company offers both prenatal vitamin packs for women as well as individual ingredients that can be used towards building the ultimate male fertility supplement stack. 
Men have the option to complete a quick assessment on Persona's website to determine which vitamins, minerals, and supplements would be best for their health goals or they may individually pick out the ingredients they want to include in their vitamin packs.
Persona offers the following major supplements that are critical for sperm cell health, hormone production, and immune system defense:
Ubiquinol – It's extremely hard to come across the active form of CoQ10 in most male fertility supplements! This version of CoQ10 is used directly towards promoting heart health, improving cellular energy, and reducing cellular damage caused by inflammation.
Omega 3 w/ BioCurc® – Omega 3 fats are critical for supporting cellular development and structure and its potency is further enhanced through the use of curcumin. This powerful duo works together to support a healthy inflammatory response as well as defend sperm cells against free radical damage.
TRU NIAGEN® – This is an optimal form of niacin (vitamin B3) that has displayed clinically validated results in promoting cellular energy and repair.
Antioxidant – This broad-spectrum antioxidant blend is composed of vitamins A & E, riboflavin (vitamin B12), zinc, selenium, NAC, milk thistle, and mixed carotenoids. These nutrients have been studied extensively for their roles in improving sperm health parameters and increasing the likelihood of conception.
Spirulina – This type of algae is regarded as a superfood and is essential for the removal of toxins that may impair reproductive health, such as heavy metals. It also nourishes sperm cells through its vast array of micronutrients.
Pros
Highly Detailed Online Assessment 

Live Nutritionist Support 

80 Different Ingredients Available
Cons
Not All Ingredients are Trademarked
Uses Proprietary Blends
Does Not Rely on Blood Test or DNA Test
Best One a Day Vitamin for Men  – Ready, Set, Go!™ Fertility Formula for Men by Best Nest Wellness
Best Nest Wellness offers neurologist-crafted prenatal multivitamins, fertility supplements, and kid-friendly vitamins.
Its products are designed to support neurodevelopment, boost immunity, aid conception, and promote optimal birth outcomes.
One of its leading product lines includes Ready, Set, Go!™ Fertility Formula which is made for both women and men.
Ready, Set, Go!™ Fertility Formula for Men Ingredients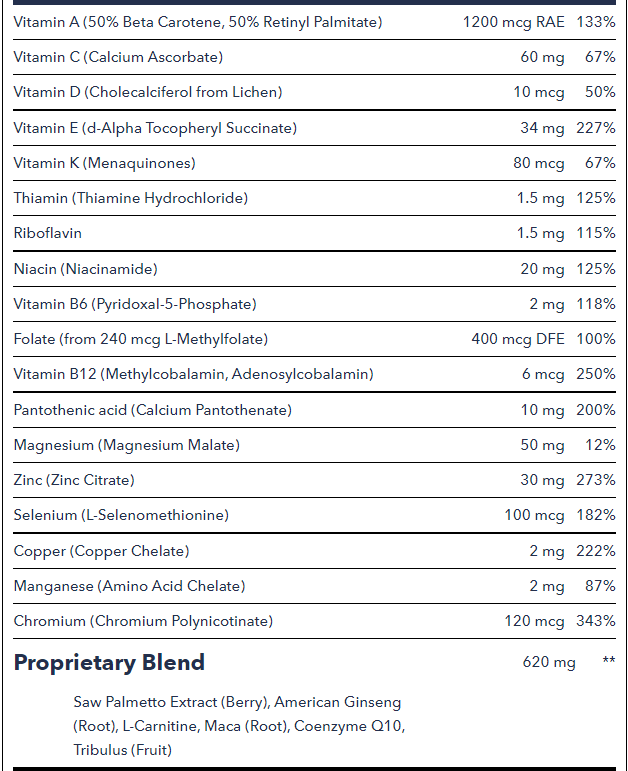 Ready, Set, Go! Fertility Formula for Men provides men with methylated vitamins and chelated minerals to promote sperm production and enhance testosterone production naturally.
This superior multivitamin for men includes a full array of B vitamins (not just B6 and B12 like pretty much all other brands), copper, manganese, and chromium that support energy levels and help men to manage fertility issues that are related to blood sugar imbalances.
In addition to its extensive list of vitamins and minerals, this multivitamin also contains several key herbs that have been used since ancient times and proven in numerous clinical studies for their effectiveness in boosting libido and improving sperm health parameters.
Pros vs Cons of Ready, Set, Go!™ Fertility Formula for Men
Pros
18 vitamins and minerals in their optimal form
6 potent and extensively studied supplements
Only one tablet per day
Cons
Missing iodine
Does not list concentrations of supplements within its proprietary blend
Some men may need to supplement with other herbs or amino acids in addition to this product
Best Immune Boosting Supplement – FH PRO for Men by Fairhaven Health
Fairhaven Health offers just about every kind of fertility-related product you can think of.
Its latest FH Pro for Men is by far the most comprehensive multivitamin supplement we've across thus far in terms of total number of nutrients that are offered adequate concentrations and in optimal form.
Not only it is effective in improving sperm parameters but it can also be used for fighting off illness and reducing damage related to oxidative stress.
FH PRO for Men Ingredients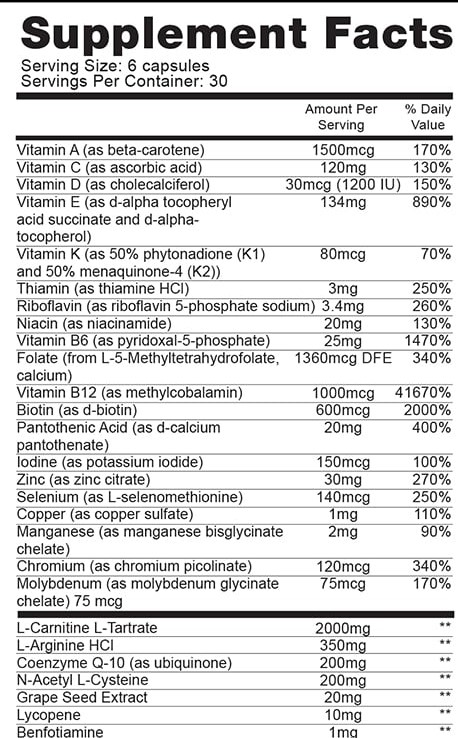 FH PRO for Men outcompetes most other competitors in respect to providing a comprehensive ingredient list as it contains a total of 27 nutrients!
Perhaps even more impressive than its total number of ingredients is the incredibly high concentration of supplements that it possesses, especially those that enhance the immune system and support defense against oxidative stress.
For reference, it contains roughly 20x more l-carnitine than most other products and it also provides 200mg of NAC per serving which is a high enough dosage to successfully assist with natural detoxification.
It is recommended for men to use 6 capsules daily.
Pros vs Cons of FH PRO for Men
Pros
Contains 20 vitamins and minerals
Includes 7 different supplements
Provides generous portions of l-carnitine, l-arginine, and NAC
Cons
6 capsules per serving
Missing magnesium
Some supplements should be in higher dosages to maximize benefits (i.e. lycopene)
Natural Fertility Boosters
It is recommended for most couples to try to conceive naturally for at least 6 months up to 1 year before seeking medical interventions for issues related to subfertility.
One of the best ways that men can boost their fertility naturally is by optimizing their diet.
While it's always best to rely upon high-quality, nutrient-dense food first and foremost for meeting dietary requirements, most men do not consume a high enough concentration of the major nutrients required for enhancing their fertility through their diet alone.
Thus, many men choose to use a multivitamin that contains a blend of vitamins, minerals, herbs, and other supplements that promote sperm health and detoxify the body.
Oxidative Stress and Male Infertility
It is believed that over half of male subfertility cases are strongly correlated with oxidative stress generated from free radicals.
Unlike most other cells in the body, mature sperm cells do not contain their own repair systems which makes them extremely susceptible to this type of damage.
An abundance of oxidative stress may lead to compromised sperm parameters, such as low sperm count, abnormal morphology, and reduced motility which reduces a couple's chances of conceiving.
In fact, nearly 1 in 4 men who are infertile have much higher levels of reactive oxygen species (ROS) within their seminal fluid as compared to men who are considered to be fertile.
As such, it's extremely important for men to supplement with vitamins and minerals that possess antioxidant properties which will provide cellular defense through binding to free radicals.
What are the Best Vitamins to Take for Male Fertility?
The above diagram was provided in the 2020 article Diet and Nutritional Factors in Male (In)fertility-Underestimated Factors published in the Journal of Clinical Medicine.
It represents the non-enzymatic antioxidants found naturally within seminal fluid that defend sperm cells against oxidative stress.
Men with impaired fertility generally have deficiencies in one or more of these nutrients and as such, it's highly recommended to use a male fertility supplement that contains each of the above ingredients, if possible.
Where Can I Get a Male Fertility Test?
In order to increase their chances of conceiving, many men will take a fertility test to see whether or not they need medical intervention or additional assistance in order to have a child with their partner.
Additionally, many men choose to save their viable sperm for future use in case they're not quite ready to have a child.
Even though there's always the option of going in person for analysis, most men would prefer to avoid the uncomfortable setting found in fertility clinics or would like to obtain their results as quickly as possible.
Thankfully, there are several at-home male fertility tests available that men can use to obtain results within just a few days or in some cases within minutes.
We recommend using one of the following male fertility kits for testing fertility in the comfort of your home:
Dadi Kit offers the best deal in terms of testing and storage. It allows men to customize their services and offers services such as can personal consultations, additional storage, and a year of free cryopreservation with every kit purchased.
Legacy is a bit more expensive than other male fertility kits but it happens to offer the best value for storage options. In fact, they offer lifetime storage and allow men to transfer their sperm to any fertility clinic worldwide once they are ready to have a child with their partner.
Fellow fertility kits provide the most accurate fertility testing and several sources have reported that this brand provides semen analysis that's as accurate as a standard fertility clinic.
YoSperm offers the most convenient at-home fertility testing kit. Testing is conducted via mobile app or through PC and provides analysis with 97% accuracy.
Take-Home Message
Men who are currently struggling to conceive with their partners may be able to resolve their issues through modifying factors such as their diet and lifestyle.
One of the best ways men can naturally improve their fertility, assuming they do not have severe or rare conditions, is through the use of prenatal multivitamins.
Men should look for a multivitamin that contains vitamins and minerals that are found naturally within healthy seminal fluid which provide antioxidant support and ward off infection.
Beli Fertility offers the best multivitamin for male fertility and has been used successfully by thousands of couples worldwide to conceive.
2 other amazing products for multivitamin supplements include Ready Set Go for Men by Best Nest Wellness and FH PRO for Men by Fairhaven Health.